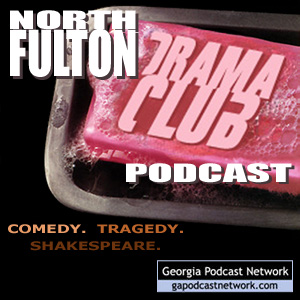 A growing community of part-time artists dedicated to providing people of every level of experience an opportunity to enjoy classical theatre either up on stage or in the audience.
Hosts: Alyssa Jackson, Nikki, Thomas
Channel: Arts » Performing Arts
Download
Show notes
And... we're back!
It's been far too long since our last official NFDC Podcast -- though we've been a recurring feature on the Atlanta Performs podcasts (Thanks, Joe!) -- but don't think for a minute that we haven't been busy. Far from it.
In fact, we've been so busy that we had to record this podcast over the course of two nights' rehearsals. Basically, we went about our business and left the recorder running. The results? Better than you might expect, if perhaps a bit manic.
Topics covered during this podcast include (and are not limited to) casseroles, table blocking, Barbies, Project Runway, NPR, obscure stitching terms ... and quite a bit about our upcoming show, A Midsummer Night's Dream. Along the way, you'll meet a few of our cast members either in conversation or by eavesdropping on a rehearsal.
North Fulton Drama Club's production of William Shakespeare's A Midsummer Night's Dream will open on May 2, 2008. For more information about the location, show-times and even how to reserve a table, so please visit the NFDC blog.
Who's on the podcast?:
Nikki
Thomas
Alyssa
Jim
Sean
Jessica
Zip
Sara
This episode's bumper music is "I Feel Fantastic" by Jonathon Coulton, made available for podcast use via Creative Commons.