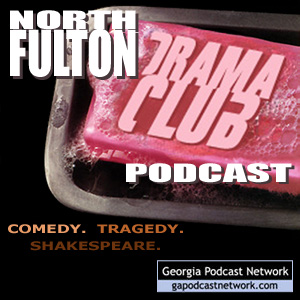 A growing community of part-time artists dedicated to providing people of every level of experience an opportunity to enjoy classical theatre either up on stage or in the audience.
Hosts: Alyssa Jackson, Nikki, Thomas
Channel: Arts » Performing Arts
Download
Show notes
In our second episode, we celebrate a better-than-expected opening weekend, explain our appreciation for William Shakespeare and laugh our way through discussions of terrain, weather, costumes and beards. Our special guest was Ilene Miller. Ilene is starring in our current production of Love's Labour's Lost as the incredibly witty and oh-so-pretty Princess Of France.
Love's Labour's Lost opened on May 12. Remaining shows are May 19 and 20.
Panel:
For more information about North Fulton Drama Club, visit the blog.
Length: 24:16 minutes
File size: 22.23 MB