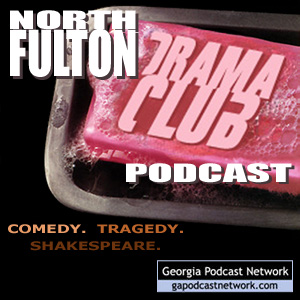 A growing community of part-time artists dedicated to providing people of every level of experience an opportunity to enjoy classical theatre either up on stage or in the audience.
Hosts: Alyssa Jackson, Nikki, Thomas
Channel: Arts » Performing Arts
Show notes
While a mostly final "dress" rehearsal continues outside, Nikki, Alyssa and Tiffany (our #1 Minion) are hard at work, finishing the costumes that will define the look of Macbeth. This podcast was recorded less than a week before opening night, things are more than a little hectic. As they sew like the wind, they are visited by various cast members. Hilarity ensues, as well as a surprising amount of insight into how NFDC works.
Also heard are ...
Jonathan
Ilene
Lee
Jerry
Jessica
Sean
Rod
Sarah
Thomas
... and possibly more

NFDC's current production is Macbeth, running through October 3.
Incredibly appropriate music for this podcast performed by Jonathan Coulton, recorded live in Atlanta, May 30, 2009.
Helpful References for In-Jokes:
http://dearmalcolmsdiary.blogspot.com
http://twitter.com/hobodarkseid
http://projectrungay.blogspot.com/http://news.yahoo.com/comics/get-fuzzy
http://www.eddieizzard.com/