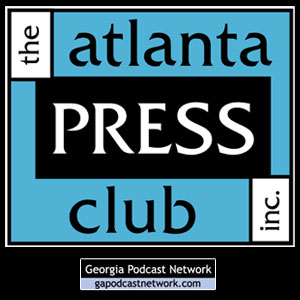 Atlanta Press Club is one of the largest and most dynamic professional journalism organizations in the country. The Atlanta Press Club hosts monthly forums that feature local and national newsmakers tackling the industry's most pressing issues. The purpose of our programs is to challenge journalists to cast a critical eye on what we do and how we do it. For more information please visit www.atlantapressclub.org.
Hosts: APC
Channel: News & Politics
Download
Show notes
Dennis Lockhart is the newly appointed CEO of the Federal Reserve Bank of Atlanta, which includes Alabama, Florida, Georgia and parts of Louisiana, Mississippi and Tennessee. Preceding the Stanford graduate's oath of office into the "Fed," Lockhart served on the faculty of Georgetown University's Walsh School of Foreign Service in the masters program, as well as Johns Hopkins' Nitze School of Advanced International Studies. In his role as CEO, Lockhart is responsible for all the bank's activities, including monetary policy, bank supervision and regulation, and payment services. He also chairs the bank's Management Committee. In addition, he serves on the Federal Reserve's chief monetary policy body, the Federal Open Market Committee (FOMC).
At this Newsmaker Luncheon, which took place Sept. 6 at the Commerce Club, Lockhart presented an economic outlook for Atlanta and took questions from the audience.
Length: 38:53 minutes
File size: 26.7 MB