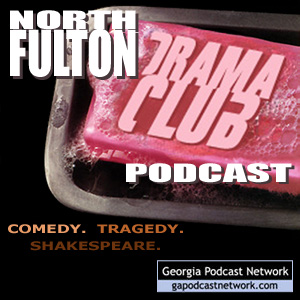 A growing community of part-time artists dedicated to providing people of every level of experience an opportunity to enjoy classical theatre either up on stage or in the audience.
Hosts: Alyssa Jackson, Nikki, Thomas
Channel: Arts » Performing Arts
Download
Show notes
Merry Wives Of Windsor was a show full of Firsts for North Fulton Drama Club. We discuss them all, while finding time to talk about a host of other relatively interesting topics. As is usual for our post-show podcasts, we give out a few Thank Yous and tell a couple of stories. And this time, we've got some rather good news about the steps we're taking toward becoming "real." We round it all out with a recap of an extracurricular story-telling event we hosted for Halloween.
North Fulton Drama Club's production of William Shakespeare's Merry Wives Of Windsor closed on October 13, 2007. Auditions for our next production will be held in February, so please visit the NFDC blog for more information.
Panel:
Nikki
Thomas
Alyssa
Larry
Camilla
This episode's bumper music is "I'm Your Moon" by Jonathon Coulton, made available for podcast use via Creative Commons.