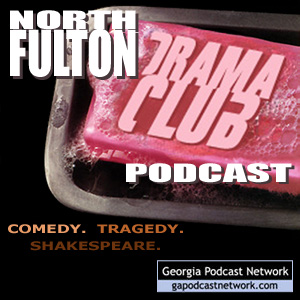 A growing community of part-time artists dedicated to providing people of every level of experience an opportunity to enjoy classical theatre either up on stage or in the audience.
Hosts: Alyssa Jackson, Nikki, Thomas
Channel: Arts » Performing Arts
Download
Show notes
Our first show of the 2007 season opens tonight, so it is time for another cast podcast. Like we did in October, we're bringing you the entire cast of Much Ado About Nothing. Show preparation was even more hectic than usual, so we interviewed our actors whenever and wherever we could find the time. If you hear some familiar dialogue in the background, we were probably recording in the middle of rehearsing a scene. Enjoy.
North Fulton Drama Club's production of William Shakespeare's Much Ado About Nothing opens on May 4, 2007. For more information about the show, please visit the NFDC blog.
The Cast of Much Ado About Nothing:
(In order of podcast appearance.)
Benedick - Mr. Matthew Pavlak
Claudio - Mr. Daniel Roach
Bathasar - Mr. Patrick Lundy
Don Pedro - Mr. Zip Rampy
Don John - Mr. Adam Johnson
Constance - Ms. Sara Holton
Borachio - Mr. Sean Anderson
Leonato - Mr. Stephen Banks
Antonia - Ms. Darshan P. Kaur
Ursula - Ms. Claire Shavzin
Margaret - Ms. Dorie Turner
Beatrice - Ms. Erin Schwartz
Hero - Ms. Anna Rich
Dogberry - Mr. Ron Ogden
Verges - Mr. David Morgen
The Watch - Ms. Julia Shavzin & Ms. Tiffany Karp
Frair Francis/Sexton - Mr. Tom Strong
This episode's bumper music is "Roses Of Picardy," performed by The Oscar Moore Trio. Provided courtesy of Rumblefish Music Licensing Store.
Length: 20:09 minutes
File size: 18.46 MB