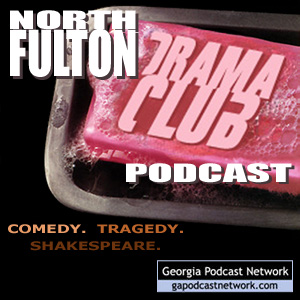 A growing community of part-time artists dedicated to providing people of every level of experience an opportunity to enjoy classical theatre either up on stage or in the audience.
Hosts: Alyssa Jackson, Nikki, Thomas
Channel: Arts » Performing Arts
Download
Show notes
We were proud to take part in the first-ever PodCamp Atlanta. We presented a Sunday morning session that we called "Chronicalling Creativity" -- a panel about how podcasting has proved beneficial to NFDC in so many ways.
In this episode, we're sharing the discussion in its entirety. For the most part, we stay on task through a double-handful of subjects.
North Fulton Drama Club's production of William Shakespeare's Much Ado About Nothing opens on Friday, May 4 and will run until the following Saturday, May 12. For more information about show dates and times, please visit the NFDC blog.
Panel:
Alyssa Jackson, Assistant Director
Nikki Strickland, Producer
Thomas L. Strickland, Director
... and other outspoken attendees, including PodCamp Atlanta organizers Amber Rhea and Rusty Tanton.
This episode's theme music is "Roses Of Picardy," performed by The Oscar Moore Trio. Provided courtesy of Rumblefish Music Licensing Store.
Length: 42:50 minutes
File size: 58 MB