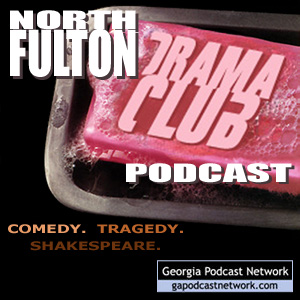 A growing community of part-time artists dedicated to providing people of every level of experience an opportunity to enjoy classical theatre either up on stage or in the audience.
Hosts: Alyssa Jackson, Nikki, Thomas
Channel: Arts » Performing Arts
Download
Show notes
In this episode, we're making podcast history. Instead of the panel discussion you've come to expect from us, we're giving you the entire cast of our upcoming production of Twelfth Night. Over the last week or so, we've interviewed individually all fourteen of our exceptional actors. These were recorded before, during and after rehearsals, whenever and wherever we could find the time. The end result is our first-ever cast-podcast. Enjoy.
North Fulton Drama Club's production of William Shakespeare's Twelfth Night will open on October 13, 2006. For more information about the show, please visit the NFDC blog.
The Cast of Twelfth Night:
Sean Anderson - "Sebastian"
Amy Arnold - "Olivia"
Lee Buechele - "Sir Toby Belch"
Kent Iglehart - "Sir Andrew Ague-Cheek"
Patrick Lundy - "Antonio"
Ilene Miller - "Viola"
David Morgen - "Sea Captain/Priest"
Matt Ramsey - "Duke Orsino"
Anna Rich - "Fabian"
Daniel Roach - "Malvolio"
Claire Shavzin - "Valentine/Officer"
Wendy Tarpley - "Curio/Officer"
Dorie Turner - "Maria"
Brandi Wyche - "Feste"
Music performed by touchingGrace, a Sitar-based World Music ensemble on the independent, online-only record label, Magnatune.