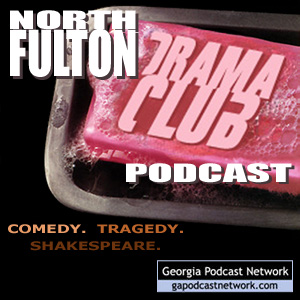 A growing community of part-time artists dedicated to providing people of every level of experience an opportunity to enjoy classical theatre either up on stage or in the audience.
Hosts: Alyssa Jackson, Nikki, Thomas
Channel: Arts » Performing Arts
Download
Show notes
In this episode, the merry three of NFDC are joined by not one, but two cast members from Twelfth Night. In just under twenty minutes, our conversation swings from the adverse effects of ragweed and fire ants on outdoor theatre to the finer points of virtually shopping on the other side of the planet to find the perfect costume.
North Fulton Drama Club's production of William Shakespeare's Twelfth Night will open on October 13, 2006. For more information about the show , please visit the NFDC blog.
Panel:
Alyssa Jackson of DramaWench
Nikki Strickland of Alenda Lux
Thomas L. Strickland of grabbingsand
Sean Anderson ("Sebastian" in Twelfth Night)
Dorie Turner ("Maria" in Twelfth Night)
Music performed by Lisa DeBenedictis, an artist on the independent, online-only record label, Magnatune.
Length: 23:46 minutes
File size: 21.77 MB