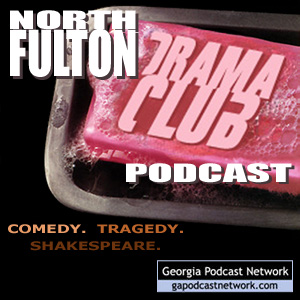 A growing community of part-time artists dedicated to providing people of every level of experience an opportunity to enjoy classical theatre either up on stage or in the audience.
Hosts: Alyssa Jackson, Nikki, Thomas
Channel: Arts » Performing Arts
Show notes
This Monday and Tuesday, North Fulton Drama Club will be holding open auditions for a new production of William Shakespeare's Twelfth Night. Rehearsals will begin in mid-August and the show will run the second and third weekends in October.
Auditions will be held on August 14 (Monday) and 15 (Tuesday) from 6:30pm to around 9:30pm. CHANGE: Callbacks are scheduled for August 16 (Wednesday).
We're looking for the following:
4 Men (age 18 to 25)
6 Men (age 25 to 40+)
2 Women (age 18 to 25)
1 Women (age 25 to 40+)
4 Either (age 16+ to 40+)
Of course, we know better than to underestimate the abilities of actors, so if you can play a character within the age ranges given, then come on out to audition.
Auditions will be held on the property of Barrington Hall in Roswell, Georgia. The Hall is located at 535 Barrington Drive, on the south side of the Historic Roswell Square, near the intersection of GA Hwy 120 and GA Hwy 9. Simply pull into the parking lot of Barrington Hall, then follow the signs. The auditions will be held in the blue barn-esque building around back, not in the Hall itself.
Actors should come prepared to perform cold-readings from provided scripts. Monologues, particularly Shakespearean, are appreciated, but not required. Headshots and theatre resumes are appreciated, but not required. Cookies and candy are appreciated... you get the idea.
Got Questions? Contact us!
http://www.northfultondramaclub.org/wordpress/contact-us/
or by email - nfdramaclub@gmail.com
or by phone - (404) 444-4605