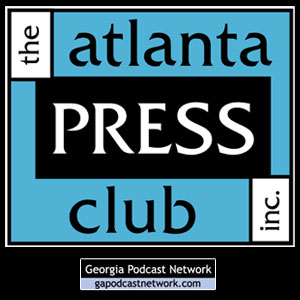 Atlanta Press Club is one of the largest and most dynamic professional journalism organizations in the country. The Atlanta Press Club hosts monthly forums that feature local and national newsmakers tackling the industry's most pressing issues. The purpose of our programs is to challenge journalists to cast a critical eye on what we do and how we do it. For more information please visit www.atlantapressclub.org.
Hosts: APC
Channel: News & Politics
Download
Show notes
Dr. Julie Gerberding spoke at the Atlanta Press Club's Newsmaker Luncheon at the Commerce Club in Atlanta today. She has been the Director of the CDC and the Administrator of the Agency for Toxic Substances and Disease Registry since July 2002. She also serves as a Clinical Professor of Medicine at Emory University and an Associate Professor of Medicine at the University of California at San Francisco (UCSF).
Before becoming CDC Director, Dr. Gerberding was Acting Deputy Director of the National Center for Infectious Diseases, where she played a major role in leading CDC's response to the anthrax bioterrorism events of 2001.
She earned a B.A. in chemistry and biology and a M.D. at Case Western Reserve University, Cleveland, Ohio. She completed her internship and residency in internal medicine at UCSF, where she also served as Chief Medical Resident at UCSF. She also earned a M.P.H. degree at the University of California, Berkeley in 1990.
Length: 39:55 minutes
File size: 27.4 MB