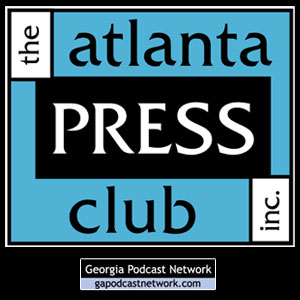 Atlanta Press Club is one of the largest and most dynamic professional journalism organizations in the country. The Atlanta Press Club hosts monthly forums that feature local and national newsmakers tackling the industry's most pressing issues. The purpose of our programs is to challenge journalists to cast a critical eye on what we do and how we do it. For more information please visit www.atlantapressclub.org.
Hosts: APC
Channel: News & Politics
Download
Show notes
The Atlanta Press Club goes behind the scenes with Atlanta's top newsmakers. The Atlanta Press Club hosted veteran journalists Stephany Fisher, WGCL-TV; Monica Pearson, WSB-TV; Karyn Greer, WXIA-TV; and Russ Spencer, WAGA-TV, at a Newsmaker Luncheon on Thursday, June 28, at The Commerce Club. This event is sponsored by Fleishman-Hillard Atlanta and Dewberry Capital Corporation.
Length: 57:14 minutes
File size: 39.3 MB