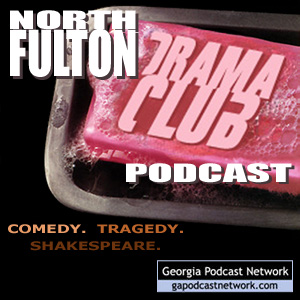 A growing community of part-time artists dedicated to providing people of every level of experience an opportunity to enjoy classical theatre either up on stage or in the audience.
Hosts: Alyssa Jackson, Nikki, Thomas
Channel: Arts » Performing Arts
Download
Show notes
As I sat down to edit a new Macbeth production podcast from Nikki and Alyssa, I stumbled upon the source files I recorded for last fall's Romeo & Juliet cast podcast. I never produced the finished episode. For one thing, I didn't manage to catch all of the cast members on tape. For another, I just couldn't find the time.
So here it is. A year too late and still short a few beloved cast-folks, this is the Romeo & Juliet cast podcast, presented as-recorded, edited only for quality. If it was recorded, then it is here.
This cast podcast features ...
Qate
Jerry
Jim
Kevin
Julie
Adam
Patrick
and David
(as well as audio from Act II, Scenes 1 & 2)
NFDC's current production is Macbeth, running through October 3.
Also, all of us at NFDC are so grateful to Rusty and Amber of GAPN for even suggesting that a theatre company might need a podcast, much less their efforts in providing hosting and featuring our content.